Template:Mainpageright
From Phyllis Schlafly Eagles
36 years ago Phyllis Schlafly defeated ERA!!!! As a result, we still have homemaker's Social Security, no taxpayer-funded abortion, no military draft of women, state laws that husbands must support their wives and children, and many single sex schools, sororities, fraternities, Boy Scouts and Girl Scouts. We also kept the federal government out of most issues of marriage and family, which would not have been possible if ERA had passed.
---
As we urged the Solicitor General to do, he has filed a brief with the U.S. Supreme Court opposing the request for it to allow States to legalize sports gambling. But the Supreme Court granted cert, with amicus briefs due in mid-September on our side.
---
We filed this amicus brief in support of small inventors in May.
---
We sent this letter against gambling to the Principal Deputy Solicitor General, urging him to oppose petitions for certiorari before the U.S. Supreme Court.
UPDATE: rumors on the internet are that the Solicitor General will oppose the pro-gambling petition for cert.
---
Pro-Phyllis Attorney General Jeff Sessions may consider overturning the gift to gambling by the Obama Administration that Phyllis criticized in January 2012. [1]
---
"Judicial usurpation of power," decries Trump adviser Stephen Miller, echoing Phyllis's The Supremacists and her Phyllis Schlafly Report of 20 years ago.
---
Utah "Rep. Ivory taking political fire for working for group pushing for a Constitutional Convention." [2]
---
White House asks Congress to investigation wiretapping of Trump's campaign by the Obama Administration
---
Multiple friends of Phyllis fill Trump's Cabinet, including Ben Carson, Rick Perry, and Tom Price.
---
Our friend Dr. Tom Price is confirmed as Secretary of HHS on a party-line, 52-47 vote.
---
"Phyllis Schlafly Eagles" commit to the work and their mentor and leader (by Nancy Thorner)
Phyllis Schlafly wished that her organization would identify that it was in fact her work, so she chose the name of Phyllis Schlafly American Eagles in May of 2016. This is the name of the organization Phyllis designated to carry on with her program and future work.
Phyllis Schlafly left a great legacy and much work to be done. Phyllis, before her death, designated Ed Martin to be her successor, and she included her sons John and Andy in key roles in the work. In January Ed Martin convened the 2017 Gathering of Eagles to plan for the upcoming year. At this meeting included representatives of many of Phyllis' organizations including her Eagle Forum organizations as well as RNC for Life and America's Future. The work is plentiful and the hands were many!
The 2017 Gathering of Eagles was held in St. Louis, MO at the Sheraton Clayton Plaza Hotel from January 26 - 28, just one block away from the beautiful Phyllis Schlafly Center in Clayton, MO, which was dedicated during the event on Friday, January 27.
The schedule of events included panel discussions on "Pro-Life Matters"; "How to Reach the Next Generation"; "Education and Abstinence"; "What DC can do for you?"; a "Visit to Phyllis' home" where she wrote, read, and went about her daily life; and "Dedication of the Phyllis Schlafly Center by Missouri Sec. of State, Jay Ashcroft."
The spirit of Phyllis Schlafly was present throughout the three day 2017 Gathering of Eagles. Phyllis' life was celebrated with expressions of love which included fond remembrances by many who had been inspired and mentored by Phyllis. Phyllis Schlafly was an amazing woman and leader!
What you should know about Phyllis Schlafly
Phyllis Schlafly was a national leader of the conservative movement since the publication of her best-selling 1964 book, A Choice Not An Echo, until her death on September 9, 20l7. Phyllis was likewise a leader of the pro-family movement since 1972 through her founding of Eagle Forum, which was successful in its fight over the principal legislative goal of radical feminists, the Equal Rights Amendment. Click here to read Andy's written eulogy for Phyllis.
In the naming of Eagle Forum, an organization Phyllis Schlafly founded in 1972, she received inspiration from the Bible in Isaiah 40:31:
"But those who hope in the Lord will renew their strength.
They will soar on wings like eagles; they will run and not
grow weary, they will walk and not be faint."
It was at a Trump rally in St. Louis, MO on March 11, 2016 that Phyllis Schlafly, in keeping with her 1964 book, A Choice Not An Echo, accordingly endorsed candidate Donald Trump. Phyllis wrote a final book before her death six months later in collaboration with Ed Martin and Brett M. Decker, The Conservative Case for Trump.
As fate would have it, Phyllis Schlafly passed away on September 5, 2016, the day before the release of her book. Candidate Trump revised his campaign so he could attend the funeral mass of Phyllis Schlafly at the Cathedral Basilica of St. Louis on Saturday, Sept. 10, 2016.
Celebrating Life! Dinner: Janet Porter Promotes Heartbeat Bill
One of several noteworthy events at the Gathering of Eagles was the Celebrating Life! Dinner which featured Janet Porter.
Janet (Folger) Porter is the President and Founder of Faith2Action, the nation's largest network of pro-family groups. It's mission is to win the cultural war for life, liberty, and the family. She also hosts a 60-second daily radio commentary which airs in 200 markets, including the American Family Radio and the Bott radio network, and is a frequent contributor to WorldNetDaily. Read more about Janet here.
Ms. Porter initiated the nation's first Heartbeat Bill in Ohio on Feb. 2011 to legally protect unborn babies with detectable heartbeats. This effort inspired Arkansas and North Dakota to pass Heartbeat Laws–now the most protective pro-life laws in the nation.
While Janet Porter and Rep. Steven King were both attending the funeral of Phyllis Schlafly in St. Louis in September 2016, Porter persuaded Rep. King to act by initiating a federal Heartbeat Bill.
"I gave him a packet and Rep. King agreed to introduce a federal Heartbeat Bill, which would protect every baby whose heartbeat can be detected. Ninety to 95 percent of the abortions will be ended with that bill."
Janet Porter gave this certain and consistent marker: It is with 96 - 97% certainty that a child will survive until a live birth when a heartbeat is heard.
Congressman King introduces Federal Heartbeat Bill
Republican Congressman Steve King, who represents the 4th District of Iowa, followed through with his promise to Janet Porter on January 12, 2017, by releasing the following Press Release statement upon introducing "The Heartbeat Bill" that would require physicians to detect the heartbeat and prohibit the abortion of a baby with a beating heart: (HR 490, the "Heartbeat Protection Act of 2017").
This bill is modeled off similar legislation proposed in Ohio at the end of last year. Ohio governor John Kasich ultimately vetoed the state's so-called Heartbeat Bill (which he said he feared might not be constitutional) in favor of a 20-week abortion ban.
Even the 8th Circuit Court of Appeals recognized that "the point at which an unborn child possesses a detectable heartbeat" is a "more consistent and certain marker than viability"—where the court allows legal protection.
H.R. 490 is now in the Judiciary Committee. Rep. Steve King needs co-sponsors.
Randy Hultgren as a co-sponsor (R-District 14)
Illinois Congressman Randy Hultgren participated in the 2017 March for Life in Washington, D.C. on Friday 27, 2017. Rep. Hultgren, having participated in the Washington D.C. event which celebrates life, should volunteer to become a co-sponsor of Rep. King's bill.
Get behind and help create a grassroots swell for Rep. King's Heartbeat Bill - Federal HR 490. Contact Randy Hultgren and your own representative to encourage them to support the bill.
To contact Randy Hultgren: Washington, D.C. office (202) 225-2976. Campton Hills District Office: (630) 584-2734
Remember this slogan:
"Heart my Heart, Save my Life"
---
Donald Trump gives special public thanks to Phyllis Schlafly, and then on Friday at noon is sworn in as the 45th President of the United States.
---
Linda Bean courageously stands up against the anti-Trumpers, and Trump tweets special support and thanks to her and L.L.Bean. [3]
---
Dem Senate Minority Leader Chuck Schumer announces that he will vote against conservative Senator Jeff Sessions for Attorney General, but confirmation seems likely anyway. [4]
---
Saturday, January 14, features a debate in Texas between Publius Huldah -- a constitutional expert on our side -- and Rick Green. Go Publius!
---
Criticism grows in Nebraska to a reintroduction of the Convention of States resolution, and unlike the original Constitutional Convention the backers indicate that a new Con Con would have intense participation by the media. [5]
---
See our rebuttal to Tom Coburn's editorial promoting the Con Con.
---
"Right wing watch" picks up and reports on our advocacy concerning the upcoming filling of the vacancy at the Supreme Court. [6]
---
The widely read Politico.com cites and discusses our coalition letter on the upcoming nomination to the vacancy on the U.S. Supreme Court, to fill Justice's Scalia's seat. [7]
---
Was Governor John Kasich's line-item veto of the heartbeat bill a violation of the Ohio Constitution? Consider our analysis here.
---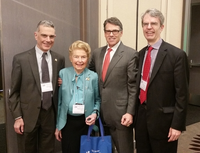 "Priebus: Trump likely to name Supreme Court pick around inauguration time." [8]
---
The "horrible idea" of a Constitutional Convention - the Convention of States. Coming to a state near you - see our chart!
AP reports that the risk of a Con Con increased with GOP majorities in 33 state legislatures due to the election.
See the top ten reasons to oppose a Con Con.
---
Trump's imminent decision to fill Justice Scalia's vacancy on the U.S. Supreme Court: see the chart of potential nominees here.
---
Donald Trump's Cabinet is the reportedly the most conservative ever.
---
BREAKING NEWS: Conservative Rick Perry is the leading candidate for Secretary of Energy. [9]
He spoke at Eagle Council 2015 and withdrew his presidential candidacy during his speech.